All these settings are saved in a configuration file and will be loaded automatically the next time VBR is run.

If this is all a bit confusing, just make sure that you have at least allocated the appropriate drivers onto each port. If you don't allocate a driver to an output port you won't hear anything from that port. Likewise if you don't allocate an input driver, you won't receive any MIDI data. Allocating instrument names to each channel is effectively just cosmetic.
Setting General preferences
Go to 'Tools > Preferences ..' on the main menu. This opens the following dialogue box.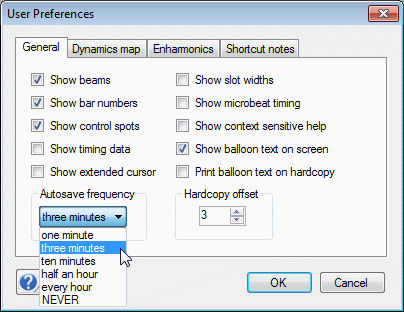 which you can use to alter some of VBR's features. Note that when you press 'OK' these preferences are saved in a configuration file and will be loaded automatically the next time VBR is run.
The picture shows the autosave drop down list being set to an interval of three minutes. This will save any modified scores automatically every three minutes.
I have found that, while the score looks perfect at any scale on screen, on printed hardcopy the noteheads and other VBR symbols are not exactly aligned with the graphic elements such as the stave lines. This is a serious bug in the way Windows communicates with its printer and in order to get round the problem, a fudge factor of 3 pixels has been added to the Y coordinate of all the VBR symbols. It occurs to me, however, that users with other operating systems and/or printers may need to use a different value so I have included an option to change it if needed. The number only affects printed hardcopy. It does not affect any on-screen displays or the image saving routine which appear to be correctly aligned at all scales.
Changing the dynamics map
This dialog box has a second tab which is used to change the volume of the different dynamic levels: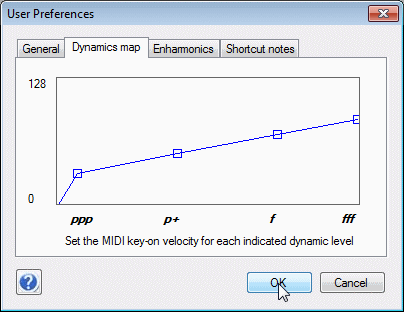 When a note is played on a MIDI instrument, the volume (and on some sophisticated instruments like a Grand Piano, the tone quality) of the note is determined by what is known as the 'key-on velocity'. This number lies between 0 and 127. VBR provides 16 dynamic levels from tacet (silent) through ppp to fff. If these were mapped directly into key-on velocity values, ppp would be almost inaudible and on many instruments, a value of 127 is ridiculously loud. This feature allows you to set four of the dynamics levels (ppp, p+, f and fff) to any value you like to suit your own instrument and hearing. Simply drag the handles up and down. Note that these levels, like the other preferences, are saved in a configuration file and will be loaded automatically the next time VBR is run.
Changing the way enharmonic notes are transcribed
This dialog box has a third tab which is enables you to change the way certain notes are transcribed either when entering notes from a MIDI keyboard or when a MIDI file is loaded: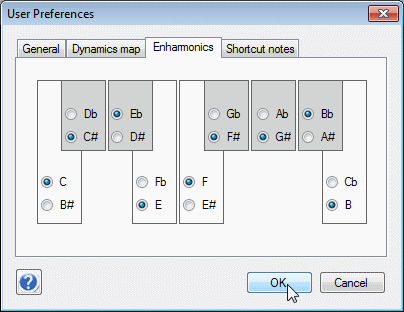 When you are transcribing notes played on a keyboard (or when VBR is transcribing a MIDI file), there is always ambiguity in the way it should be treated. VBR adopts the following procedure:
If the note is a note on the scale of the current key which has not been altered by an accidental, VBR enters a normal note
If the note is a note on the scale of the current key which has been altered by an accidental, VBR will transcribe it as a naturalised note (except in the case of the notes C, E, F and B natural which may be transcribed as B#, Fb, E# or Cb according to the way the user has set the radio buttons on the white keys in the above box).
If the note is not on the scale of the current key but is a note which has been 'accidentalized' earlier in the bar, VBR enters a normal note.
If the note is not in any of the above categories, then VBR will use the way the user has set the radio buttons on the black keys in the above box.
In practice, it will usually be found sufficient to set the white keys to their normal values and the black keys to C#, Eb, F#, G# and Bb but there are occasions when the C# is better transcribed as a Db and likewise the G# as an Ab. It doesn't matter if you use the wrong setting as you can always use the 'Enharmonic change button' (short-cut Ctrl-N) to correct the mistake (but watch out for necessary changes further on in the bar).

You may find this feature of VBR useful when transcribinbg MIDI files. If you discover that a file has lots of C#'s in it which ought to be Db's, make the necessary change and load the file again.
Customising certain notes on your MIDI keyboard
This dialog box has a fourth tab which is enables you to program certain keys on your MIDI keyboard to perform certain actions.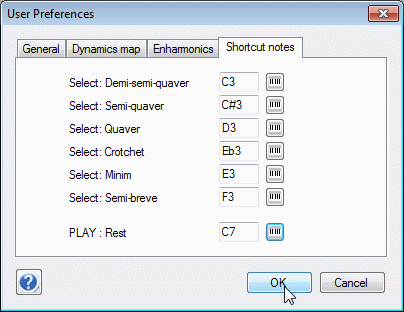 The fastest way to enter large numbers of notes into VBR from a printed score is to place the cursor at the appropriate place, press F12 to get into MIDI entry mode, use the function keys F1-F8 to select the length of note you require - crotchet, dotted minim etc. - and then play the note (or chord) which you wish to enter. There are just two problejms with this. Firstly it is very inconvenient to have to go back to the keyboard whenever you want to enter a rest. Secondly, the position of the function keys is such that I get wrist ache in a very short space of time. These problems are effectively solved by designating certain notes on the piano keyboard to act as function keys and one note in particular to act as a rest. You can use this tab to define the keys you want to use for these purposes. You can either enhter the name of the note by hand (C5 is middle C) or click on the little keyboard icon next door and play the appropriate note on your keyboard.
Saving Templates
When starting a brand new score, you will have noticed that you are presented with a list of what are called 'Template' scores which contain one or more staves with relevant stave data.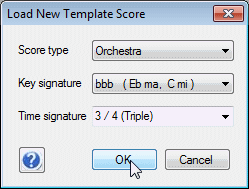 Inevitably, you will want to change these and create new templates of your own. This is easy. Just use a score which is set up the way you want it and go to 'Score > Save > Save as template score ...'. Either select one of the original names or enter a new name in the dialog box and press ENTER. None of the notes will be saved, only the stave data, including voice data for each stave etc.
When installing a new version of VBR over an old one, your template scores are not affected.